The latest segment of The Culture vault see's us catch up with Teik of Sydney's HALFSLEEVE store, located in Surry Hills. Check them out at www.halfsleeve.net or head down to the store and get your shit lookin' fresh!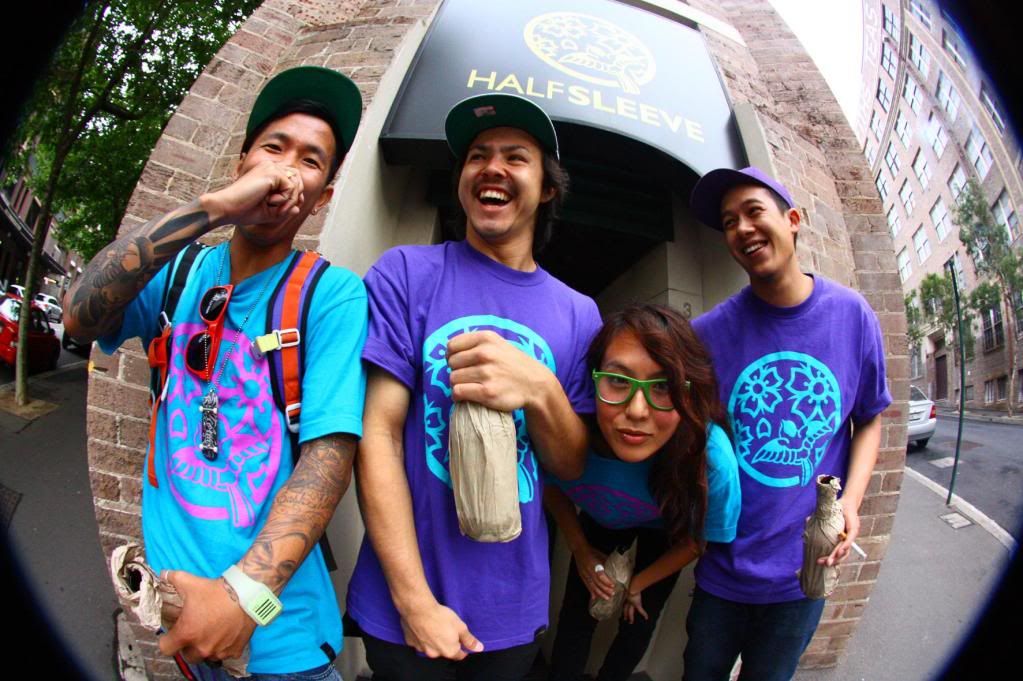 Yo Teik, what's been happening? For those who don't know, can you tell us a bit about yourself and what it is you do, and how your typical day unfolds?
Whatup whatup. Teik here. I'm one of the owners of a select clothing shop in Surry Hills (rep the 2010!) called HALFSLEEVE, at the moment we do a range of brands from NYC, Tokyo, UK, and locally as well. Some of the bigger brands that your readers might know are 10 Deep, Mishka, Foreign Family, North Face Japan, MHI by Maharishi and Imperial Denim.
A typical day for me would have me up at around 10:30am (I know, sweet hours hey haha), havin a feed, heading out to open the shop at 12pm, juggling customers and admin work (orders, bills and what not) til close at 7pm. What I do from close til the next morning – that's MY business hahaha.

What were you doing before HalfSleeve came about, and how did that lead you in to what you are doing today?
I hustled in retail since high school. Not unlike anyone else i guess, jumping from shop to shop. But in 2005 I worked retail in Japan for a year or so, changed my outlook on the industry, made some dope friends/connections and we decided to go it alone. Worked out well I guess.
What are your thoughts on the current state of street wear within Australia?
I knew you were gonna ask this hey haha. I wish I had some crazy insight into the game but I don't think I do.
In terms of shops, what I always say is that the more of them, the better off we'll all be. More shops means more brands, which means more choice for the customer and more outlets for growing brands to get their hustle on. Some shops around the way bitch and beef way too much – Shit is detrimental to the whole scene I reckon anyway. If blogs like yours, shops, zines, distro blokes could all work together it would benefit everyone in the long run. 'Streetwear' is far from dead round here, its just hasn't reached its potential yet. That's just my opinion anyway.

What's been flowing through your head phones of late?
Of late? Honestly… Angie Stone, NoFX and this reggae cover cd I found in Japan ha!

The economy in Australia is less than great, do you find it difficult owning and operating a store, selling the labels you do in this economic climate?

Yeah, but I wouldn't be do anything else.
What's in your pockets right now?

Ciggies, phone, wallet, a 20 bag… Nothing special (sorry).
Pre 2005, there were hardly any stores in Australia that you would call "Street Boutiques", what do you think you could attribute the change to, from the humble skate store to stores such as yours?

Well even before FB and what not, the explosion of streetwear blogzines (Hypebeast, Freshness, SlamXHype etc) & forums definitely contributed alot to the accessibility of proddy and images of shops around the world. You had easy access to new shop openings, shop interiors/lay outs and much more updated news on what they were stocking / what direction they were taking by simply surfin around those sites for a bit. For example, you could see the way lookbooks were shot, the launch parties etc, then people over here could start rippin em off. For us, we had a clear image of what we wanted our store to look like from influences we picked up in Japan.
Alright, it's your day off, what would we find you doing?
Most of the time I'm in the office doing backed up paperwork (fun hey) or on the net checkin out whats bangin, but if that's all done, then you'll find me on the ball courts in the day and talking shit with my homies down the pub til the morning.
Why "HalfSleeve"?
Kinda had a ring to it. My tatt artist in Japan helped us with the logo and it just kinda fit well. Also, we mainly do tees in here and 'halfsleeve' is the direct translation for the Japanese word for a shortsleeve tee.
What are your views/opinions on the World and Society today?
What inspired you initially to open a store selling streetwear?
Watching the way retail was done in Japan…Thinking there was something lacking back home, then deciding to try to do it right.
Name 5 things you always take with you on your travels.

My lappy, ipod, my BB, my Gravis wheelie bag (best luggage ever, no shit) & HALFSLEEVE stickers to bomb.
Any up coming projects or happenings that we should know about?

Yeah man, we got some dope shit coming out from our own brand in the very near future..Keep watching the blog. Can't really say much else.

Word association, you know the deal, say the first thing that comes to your mind when you read the word.
Australia – Home to that awesome southern cross tatt haha

Kevin Rudd – He'd have one of those tatts hey

America – So right & so so wrong

Obama – http://www.halfsleeve.net/posts/66-HALFSLEEVE-presents
Religion – Fuck off

Time – Not enough of it
Greed- Was a mad board game back in the day

Humanity, Peace & Freedom – Lucky to be where we are

Art – Get out and do more!

Half Sleeve – Is one word, not two man.

Life – It's all good

Happiness – Make your own

Props to Ben and THIS LIFE, we definitely need more of these. Keep hustlin boys.

Where can people follow what you're up to and suss your deal?
Our website/blog – HALFSLEEVE.NET

Last words, shout outs?
Shout outs to all our customers and all the homies who got us here. Much love.
...click here to read the full article